Home
Talk

4
451pages on
this wiki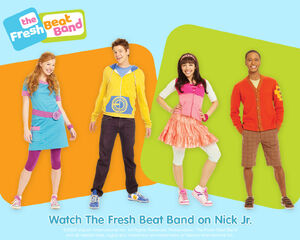 ===Hip-Hop & Pop! It's The Fresh Beat Band Wiki!===
Cool beans, it's the kickin' Fresh Beat Band Wiki; the community encyclopedia about The Fresh Beat Band Show. There are fans who love and enjoy the Fresh Beat Band's music and T.V. show. We wish to inform everyone how great they are.
Our goal: To tell everyone about the Fresh Beat Band Show. SWEET!
Hip-hop and pop, the Fresh Beat Band aren't going to to stop!
The Fresh Beat Band Show
Edit
The Fresh Beat Band Show (formerly known as The JumpArounds before airing on tv) is a live-action musical sitcom about a band, with the same name, on Nick. The band is made up of have best friends, Marina, Kiki, Twist, & Shout, who live and go to Music School together. Each member plays their own unique instrument. They sing and dance to original songs in town, at school, and in the town park. They also have miniature versions of themselves known as the Junior Beats which consists of children who dress and look nearly identical to thier Fresh Beat counterpart. The show is filmed at Paramount Studios in Hollywood, California.
Each episode consists of four songs and a preschool like problem that the band works through out the episode to solve. The Fresh Beats will start off each episode singing a song to start the day and get everyone on thier feet. They later sing a song about the current problem and how to fix it. After solving the problem of the episode the band will perform a song about the problem and solution. They then end the episode with their closing song "Great Day".
Soundtracks
Edit
The Fresh Beat Band: Music From the Hit TV Show
The Fresh Beat Band: More Music From the Hit TV Show Vol. 2.0
Latest News
Edit
Shayna Rose has left The Fresh Beat Band to get married and pursure other opportunities. Marina's new portrayer is Tara Perry.
The release date for The Fresh Beat Band Show Official Soundtrack is January 31, 2012. "Great Day" & "Fresh Beat Band Opening" are available on iTunes.
The release date for The Fresh Beat Band Season 1 DVD is unknown. Episodes from Season 1 can be bought on iTunes and Amazon.
The Fresh Beat Band Season 2 starts August 30, 2010.
The Fresh Beat Band will appear and perform at Nickelodeons Mega Music Festival. It will premiere Labor Day.
The Fresh Beat Band episode "Fresh Beats in Toyland" will be the first Fresh Beat Band TV special. It will be about Christmas.
Characters
Edit
Kiki Flores the Violinist played by Yvette Gonzalez-Nacer Instruments: Guitar and Violin Colors: Pink , Whitey menta  Favorite expression: "Kicking"
Marina Kelly the Drummer played by Tara Perry, who replaced Shayna Rose Instrument: Drums Colors: Turquoise and Purple Favorite expressions: "Hip, Hop, and Pop!" and "You know, that would be cool"
Thomas 'Twist' Jobson the Disc jockey played by Jon Beavers Instruments: Turntable, Beatbox Colors: Yellow and Blue Favorite expression: "Sweet", "Wouldn't it be cool if..." and "Sure, if you want to do it the easy way"
Lucas 'Shout' Shawn the Keyboardist played by Thomas Hobson Instrument: Keyboard and horns (bugle, trombone) Colors: Orange and Brown Favorite expressions: "Cool Beans" and "Styling"
Melody the Smoothie Maker - owner of the Groovy Smoothie Shop. Played by Dioni Michelle Collins.
Reed the Guitar player - owner of the Good Note Music Store, and occasional guitar player. Played by Hadley Fraser (Season 1), and later Patrick Levis in Season 2.
Harper the Pizza Maker - owner of the Pizza Cafe. Played by Shane Blades.
There are also four children known as "The Junior Beats " who are essentially the child equivalent of their grown up counterparts. All can sing and dance, and dress as a corresponding character.
Ms. Piccolo the Teacher - music school teacher. Played by Monica Lee Gradischek.
Jason Mraz
Banjo the dog
Ice cream vendor - played by Corey Lay.
Delivery woman - played by Molly Baker, then Mallory Low
Deep Freeze - played by Nikki Blonsky
Season 1: 2009-2010
Edit
| | | | |
| --- | --- | --- | --- |
| 2 | 8/24/2009 | | The Fresh Beats wallpaper the music room as a birthday surprise for Ms. Piccolo. Working separately creates a mess so they work together and Ms. Piccolo is delighted with the wallpaper and her new present, a piccolo! |
| 1 | 8/24/2009 | | While practicing for her drum solo for tonight's big performance, Marina breaks her drumset. The Fresh Beats must scramble to find whatever materials they can find to make a drum set – a trashcan, lids, pipes and even a table! |
| 3 | 8/25/2009 | | The Fresh Beats are jamming in the park when a frazzled Reed asks them to help him find Banjo, the playful puppy that he is dogsitting. But the Fresh Beats have trouble tracking the sneaky pup as he eludes them at every turn. |
| 4 | 8/26/2009 | | Shout is so excited to perform today that he's developed a case of loco legs! So The Fresh Beats come up with an ingenious plan that will enable them to perform together. They all do the loco legs dance! |
| 5 | 8/27/2009 | Let's Boogie | The Fresh Beats are having trouble learning a dance that Kiki has choreographed. After a trip to the groovie smoothie, Melody teaches them that if you put it in a song, you can remember the steps a lot easier! |
| 6 | 8/31/2009 | | It's tap dance day at music school and The Fresh Beats are ready to tap. Shout is so ready that he taps his shoes right off his feet and into a palm tree. So Marina gives Shout her duck slippers to tap in and saves the day! |
| 7 | 9/1/2009 | Hippity Hop | Melody has a new carrot juicie flavor and she wants Marina to wear a bunny suit while singing to promote it. Kiki, Twist, and Shout also dress in animal costumes and create an animal dance they can do together. |
| 8 | 9/2/2009 | | The Fresh Beats are each picking one different instrument to play! Twist wants to play them all and turns himself into a one-man band. In the end, Twist is so exhausted that he realizes all he needs is his own voice. |
| 9 | 09/3/2009 | | The Fresh Beats are going to rock the street fair, but Twist can't slow down and breaks Marina's drum. He turns his room into a bouncy, but they can't play their instruments! Finally, Twist slows down and they rock out! |
| 10 | 10/19/2009 | | There's a Talent Show at school and Twist wants to do magic tricks. The others want to sing and dance, especially when the tricks don't work. In the end, the Fresh Beats perform… with Twist's magic tricks! |
| 11 | 10/20/2009 | | It's too hot to practice and the Fresh Beats cool off with a smoothie. Melody leaves them in charge of the shop and pretty soon they're making ice-cold smoothies that freeze everyone, which turns into a freeze dance! |
| 12 | 10/21/2009 | | Kiki and Shout are singing a duet. Kiki wants to sing opera and Shout wants to sing rock and roll. They realize that what's important is that they sing together! They sing about singing together and have a great time. |
| 13 | 10/22/2009 | Smoothies to Go-Go | Kiki has a pair of skates that go super fast (or allegro) and she creates a delivery service. But Kiki takes on too much and the others help her and they become Kiki's, Marina's, Twist's and Shout's Allegro-to-go-go! |
| 14 | 1/11/2010 | | The Fresh Beats are leading the school parade, with uniforms and marching band instruments! They have trouble marching in a straight line and morph into a hip-hop marching band and march, and dance, Fresh Beat style! |
| 15 | 1/12/2010 | | It's the Moonlight block party and everyone is decorating the street. The Fresh Beat Band start their show and all the lights go out! They make glow stick costumes and the party becomes a glow-in-the-dark extravaganza! |
| 16 | 1/13/2010 | Rock to Sleep | Shout gets a bugle inside a box of his favorite cereal and he can't stop playing it. Night falls, and the others try to get him to sleep. Finally, they rock out and Shout is so tired from playing that he falls asleep. |
| 17 | 1/14/2010 | Rhyme Time | Twist is practicing his raps for the picnic when he loses his voice. The others rap in his place, then lose their voices too. The Fresh Beat Band's rap performance turns into a game of charades, with Reed translating! |
| 18 | 3/5/2010 | | The Fresh Beats are having a hoedown today! They're going to play country music and square dance. Twist really wants to play his mix tables, but they don't fit with the country music style so he has to figure out what to play! |
| 19 | 4/22/2010 | | It's Clean and Green Day and the Fresh Beats are cleaning the street! But Shout would rather play music, so they all build a bubble making music cleaning machine, using discarded woodwind instrument parts they got from Reed! |
| 20 | 5/28/2010 | | The Fresh Beats are having a Luau and they're playing Hawaiian instruments! Marina's hands sway whenever she hears Hawaiian music and she can't play her instrument until they realize that Marina can lead the Hula dance! |
Season 2: 2010-2011
Edit
| | | | |
| --- | --- | --- | --- |
| 1 | 8/30/2010 | | When the circus only half-arrives, the Fresh Beats jump in to help save it for the Junior Beats. Twist and Shout claim the flying silks, Kiki the floating lyra and Marina the soft swing. Even Reed jumps in to be the clown/juggler. |
| 2 | 8/31/2010 | | The Fresh Beats order a brand new car online, but it's delivered in 57 different boxes. They'll need to follow the instructions one step at a time to build a rockin' new car. |
| 3 | 9/1/2010 | | The Fresh Beats jam with their acoustic instruments when they go camping and try to spot a shooting star. But it's Twist's first time camping and he has a lot to learn. |
| 4 | 9/2/2010 | Singin' in the Rain | The rain inspires Marina to write a new song, but when the rain stops, so does her inspiration. To finish the song, the Fresh Beats help Marina to find a sound similar to the rhythm of the rain. |
| 5 | 9/15/2010 | | It's their first day back at music school and the Fresh Beats reminisce about their favorite songs. They can't decide on just one, so they decide to make an awesome, new back-to-school song. |
| 6 | 10/25/2010 | Giant Pumpkin | Shout picks a giant pumpkin for the Fall Festival but it's too big to move by himself. So the Fresh Beats work together to move it. They get to the festival in time and perform as a quartet with their giant pumpkin! |
| 7 | 12/13/2010 | | The Fresh Beats are living toys in a magical holiday toyland! Which is great … until Dancing Robot Twist runs out of batteries! Shout, Marina, and Kiki need to help him get his moves back. |
| 8 | 3/7/2011 | | On their way to the Zydeco Music Parade, Twist, Shout, and Reed get stuck on the road! They have to find a way to the parade while Kiki and Marina find instruments for them to play. |
| 9 | 3/8/2011 | | The Fresh Beats need a chorus to sing Kiki's new song, so they invite people from all over town to join. Can they help everyone finish what they need to do so they can join the chorus? |
| 10 | 3/9/2011 | Car Wash Dance | Kiki wants to choreograph a catchy new dance. When the Fresh Beat car accidentally gets dirty, Kiki's car-cleaning moves turns into a great new dance – "The Car Wash! |
| 11 | 3/10/2011 | The Case of the Missing Violin | Kiki's favorite violin duo has invited the Fresh Beats to play with them, but Kiki's favorite violin is missing! The Fresh Beats need to follow the clues to solve the mystery of Kiki's missing violin. |
| 12 | 5/27/2011 | | The Fresh Beat Band go to a concert to see their favorite musician Ne-Yo but get stuck in a room at the venue. They remember how they formed a band as kids and then they perform on stage with Ne-Yo. |
| 4 | 7/3/2011 | | The Fresh Beats befriend a pink balloon, and then literally make more balloon friends to play with too. When all the balloons get out of control, only a conga line can save the day. |
| 3 | 7/3/2011 | | The Fresh Beats need to practice for a dance performance, but they also want to play basketball. The solution? Presto Pants to help them do a super-fast basketball dance! |
| 6 | 7/10/2011 | | Twist, Kiki, and Shout plan a surprise birthday party for Marina. But the real surprise is when they each get her drums, and the birthday party turns into a drum party! |
| 5 | 7/10/2011 | | Marina, Kiki, Twist and Shout have to make a musical for music school but they do not know what to make it about. While they are trying to find an idea they come across a couple of things that are a little mixed up. |
| 9 | 7/17/2011 | Follow the Leader | Twist loves being the conductor of the school band, but he needs to be a better listener too. Shout, Marina, and Kiki help him to listen to the music so that he can conduct them correctly. |
| 8 | 7/17/2011 | Step it Up | The Fresh Beats get to learn a new stepping dance for a competition, but they're on different teams. Then, they figure out a way to combine their dance so they can perform together on stage. |
| 10 | 7/24/2011 | | Every time the Fresh Beats sing scat to their plant, it grows, and soon covers the lobby. It's fun to swing on the vines but when it takes over the street, they find it a new home in the park. |
Season 3: 2011-?
Edit
| | | | |
| --- | --- | --- | --- |
| 2 | 6/24/2011 | | Ms. Piccolo's class is graduating, and Marina has trouble figuring out what she wants to do after she graduates, but then she learns she wants to stay in the Fresh Beat Band. |
| 1 | 6/24/2011 | | The Fresh Beats meet a new friend Harper who runs the Singing Pizza Cafe. He's worried he won't get enough customers so the Fresh Beats offer to play a concert at the restaurant. |
| 7 | 7/8/2011 | | DJ Twist is ready to rock the turntables at the pool party, but he'll need help from Kiki, Marina, and Shout to refill the pool after they accidentally splash all the water out of it! |
| 11 | 10/24/2011 | | The Fresh Beats run into a ghost band when they get a gig to play in a western town. They face-off against the ghosts in a musical showdown and discover that the ghosts are misunderstood. They work to bring folks back to town! |
| 12 | 11/4/2011 | | Twist becomes a rap superstar when a hip manager named Max recruits him to go on tour. But Twist realizes he doesn't want to leave the Fresh Beat Band so when they rally to reunite with him,they decide to stay together as a band! |
| 13 | 11/11/2011 | | The Fresh Beats help their friend Harper babysit a pair of chimps who are more than they can handle. Marina gets the idea to build a jungle gym for the chimps in the park and the Fresh Beats find a perfect song to rock the show. |
| 14 | 11/18/2011 | | The Fresh Beats must don the costumes of their favorite heroes, The Mighty Music Band, to defeat the evil Deep Freeze, who's freezing everyone in an attempt to stop them from dancing! |
| 15 | 11/25/2011 | Rock Star | The Fresh Beats get transported into the world of the Rock Star board game but can only get out if they play a hard musical riff. It's too hard to play with one person. Marina gets the idea for everyone to play it together! |
| 16 | 12/2/2011 | | The Fresh Beats meet a magical genie and try to use their wishes to put on a great concert at the Indian festival. But the genie helps the Fresh Beats realize that all they need is each other! |
| 17 | 12/9/2011 | | The Fresh Beats order four robot versions of themselves to help them pick berries for Melody and make pizzas for Harper. But when the robots make a big mess, the Fresh Beats have to figure out how to clean up their mess. |
| 18 | 1/27/2012 | | When Marina gets swept up into a windstorm, she lands in Oz! Along the way, she befriends a Scarecrow, a Tin Woman, and a Lion and they go to the Wizard of Song so that Marina can find her way home. |
| 19 | 2/10/2012 | | The Fresh Beats are excited for a royal wedding happening in town. But when the Princess becomes smitten with Twist because he makes her laugh, the Fresh Beats have to find a way to reunite the Princess and her Prince! |
| 20 | 4/20/2012 | | The Fresh Beats find out the Mayor is going to replace their favorite park with a new office building. So they find ways to stop the construction and finally have a big concert to let everyone know how much they love the park! |
| 21 | 6/8/2012 | | The Fresh Beats meet DJ Lance and the Gabba Land gang when Plex beams DJ Lance and friends into the Singing Pizza Café! They'll need to band together to get to Toodee's beach party on a wacky journey through the Arctic, the ocean, and the Wild West! |
| 22 | 8/19/2012 | | The Fresh Beats are going to rock the half-time show at the Junior Beats' first basketball game, but it's the Junior Beats who rock on their new court when they play against the Fresh Beats! |
| 23 | 10/14/2012 | | When Harper hosts an all-night dance contest at the Singing Pizza Café, the Fresh Beats get ready to show off their latest moves to win the grand prize! They revisit their favorite music videos as the contest goes on all night. |
| 24 | 2/10/2013 | Laughing Dance Master | The Fresh Beats audition for a dance festival but don't make the cut. So they seek help from the mysterious Laughing Dance Master who trains them with some really odd tasks! |
| 25 | 10/23/13 | | Kiki auditions to be the lead in a new ballet. |
| 26 | 12/3/15 | | Twist accidentally gives everyone a snow day. |