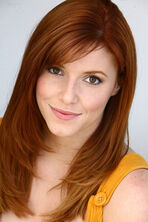 Tara Marie Perry
replaced Shayna Rose in the third season as
Marina
. Shayna left the show to get married and pursue other projects. Tara is a dynamic and diverse actress and comedian from Jonesboro, Arkansas, which means she is a southerner.
Some might remember Perry as Miss Teen Northeast Arkansas 2001, Miss Teen Jonesboro 2002, or Arkansas Junior Miss 2004.
Not only is Perry pagaent pretty and merrily musical, but she has a penchant for comedy and the gift of impeccable timing.
This redhead took all the talent to Hollywood and went to work. Perry has appeared on the Jimmy Kimmel Show, done cartoon voiceover work, acted in several independent films, and had a few national commercials.
Perry hosted more than 40 episodes of the creative and popular online preview movie series, The Movie Maven on mania.com and is also part of several Los Angeles-based imrovisation groups.
Being A Fresh BeatEdit
We all know Perry as Marina on the show, but what we probably don't know is that she always wanted to be in show business and moved to LA on her own at the age of 19 to follow her dreams.
Marina
is the one who usually brings everyone back together. In real life though, Perry says that sometimes she
needs to be reined in some. But she does share qualities with her character. "I think I'm definitely goofy and very excited a lot," she says. "A lot of that excitement is not acting. It's just me being excited that I get to do what I love with my life and it's kind of incredible."
Perry's father admitted to always having wanted to play the drums, so that spurred her to trying them. She took lessons for a few years as well. "I thought it was a cool thing at the bottom of my resume in my special skills section," says Perry, who admits that she never expected to play professionally.
When the opportunity to audition for the role of Marina from the Fresh Beat Band arose, it was a serendipitous thing that Perry fit Marina's skill set perfectly as an actress who could sing, dance, and play drums. "Finally I get to use that special skill," she laughs.
Drummer GirlEdit
Perry started playing drums when she was eleven. She never had the chance to be a drummer in a band at school because she played a lot of sports, and she couldn't fit band into her schedule. So Perry didn't have the opportunity to show off her drumming skills.
When the opportunity to audition for the role of Marina (to replace Shayna Rose, who was leaving the show by the end of season 2) arose, it was the perfect opportunity for Perry to be a drummer in a band.
After sending in her audition tapes, she got five callbacks. When she got a callback on December 9, 2010, her 25th birthday, she was told that she landed the role of Marina!
Tara's drumming video: http://youtube.com/watch?v=cYYUr4OIITE
Perry Talks JonesboroEdit
Marina is all smiles and excitement, but Perry's own life hasn't always been that way. When Perry was in the sixth grade, two students at a nearby middle school had killed four students and one teacher in one of the first of a rash of major school violence. The Westside Middle School massacre was the deadliest shooting at a USA middle school ever. Five were killed (these victims were all females) and ten injured.
Perry was a student at a different Jonesboro middle school, but the incident hit home--and changed things for her and her classmates. She walked into the principal's office and saw every single classroom door open, and TVs were on to CNN. She recalls recognizing the names and being struck that someone her age would do something like that.
It was really scary. The school district down there got really strict. Following the incident, new safety measures were instituted to keep students safe like mandating clear backpacks and using metal detectors. There were new drills.
And at Christmas time, a lot of yards had five angels on them in honor of the five females killed in the incident.
Pageant Pretty PrincessEdit
As a preteen and a teenager, Perry competed in Arkansas pageants. Her sister Blair brought home a flier from her school about competing in a pageant. Perry thought she could do that. So she competed and she won. Some might remember her as Miss Teen Northeast Arkansas 2001, Miss Teen Jonesboro 2002, or Arkansas Junior Miss 2004.
Her first episode as Marina is Graduation Day, and her very first line on the show is "But, Twist, you don't need your backpack; we're graduating from music school today".
She is a very skilled drummer.
She is a redhead.
Her birthday is December 9, 1985. The episode The Fresh Bots (episode) aired on her 26th birthday.
She started playing drums when she was eleven. She always wanted to play an instrument but couldn't decide what she wanted to pick up. Her father thought it would be cool to play the drums. That year Tara got a Roxx Jr. set for Christmas and started taking lessons.
Perry and Marina are pretty similar. Perry loves to sing, dance, and play drums and wears a lot of blue and purple. Perry and Marina may have different hobbies. Perry loves cooking, fishing, and hiking. But Marina did go camping with Kiki, Twist, and Shout in Camping with the Stars, so she and Perry may be more alike than Perry thinks.
Because Perry enjoys fishing and hiking, she's possibly a tomboy.
Her favorite FBB episode is The Wizard of Song, and her favorite part was when she and her castmates (along with Dioni Michelle Collins, who portrayed the Bad Witch), sang Here For You.
Her favorite FBB song is A Friend Like You.
Her rise to fame arose when she was fifteen.
Perry got married on October 19, 2013.