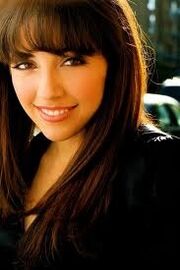 Yvette Gonzalez-Nacer is a Cuban actress/singer, and she plays Kiki on the Fresh Beat Band. Yvette is the youngest main cast member on set.
* A child prodigy, she started high school at the age of 12 and graduated at the University of Miami on an opera scholarship at the age of 19.
* Yvette's hair was mistaken as a wig by some fans, but it was proven to be real in "Bounce in the House".
* It's possible she could be talented in ballet. If it's true, then it can be shown in Fresh Beats In Toyland.
* Fun Fact: The episode Smoothies to Go Go aired on her 23rd birthday, and it centers around her character Kiki.
* Her birthday is October 22, 1986.